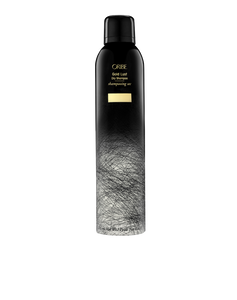 Gold Lust Dry Shampoo
by Oribe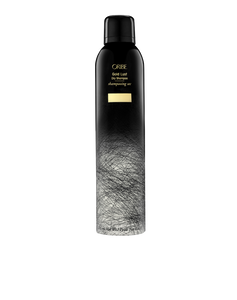 Fragrance-retention technology means our signature scent stays with you all day. Translucent powders instantly absorb dirt and oil from hair and scalp. Does not add texture, grip or weight. Nourishes and fortifies dry, damaged hair. Maintains hair health and colour vibrancy by extending blowout and prolonging time between styling. Hair is soft, smooth and touchable leaves hair with body and movement.
Oribe Signature Complex (Watermelon, Lychee and Edelweiss Flower Extracts) defends hair from oxidative stress, photoaging and the deterioration of natural keratin all while protecting from the drying, damaging and color-depleting effects of the elements. Translucent Starch Blend instantly absorbs dirt, oil, impurities and product buildup leaving hair feeling "just washed." Celery Seed Extract helps extend time between styling by reducing oil on the scalp. Bamboo & Rice Silks leave hair instantly smooth and silky soft. Myrrh Extract nourishes and fortifies dry, damaged hair. Lavender & Chamomile moisturizes and hydrates to soothe a dry, itchy scalp. Fragrance-Retention Technology prolongs our signature scent so it lasts throughout the day.
Free Shipping on products of £50.00 and above
Standard Shipping on products £0.00–£49.99 is £4.00
Delivery in 2-3 working days
For returns policy see the Delivery & Returns section below
Oribe Hair Care began its journey in 2008. Good. Better. Best. Those were the classifications found in all beauty categories except hair care. Daniel Kaner, along with two partners including legendary hairstylist Oribe Canales, saw an opportunity in the professional hair care category to create a brand that offered a unique, boutique perspective within the segment. The brand blends craftsmanship, performance and decades of styling experience from the top of the editorial and salon worlds to create a new category in hair care. Today, Oribe is a best-selling, award-winning brand that has sparked deep connections with its consumers.