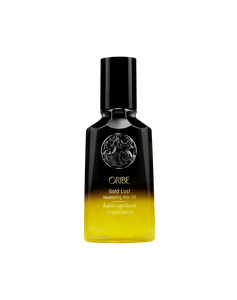 Gold Lust Nourishing Hair Oil
by Oribe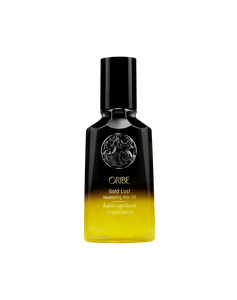 Works wonders on dry, damaged and color-treated hair…Liquid gold. Helps prevent damage and protect hair without weighing hair down. Adds high shine and silkiness while detangling and reducing frizz. Provides thermal protection and reduces dry time. Penetrates the hair shaft to help restore, strengthen and condition even the most damaged locks.
Oribe Signature Complex (Watermelon, Lychee and Edelweiss Flower Extracts) defends hair from oxidative stress, photoaging and the deterioration of natural keratin, all while protecting from the drying, damaging and color-depleting effects of the elements. A Special Blend of Emollients conditions and softens hair without weighing it down. Argan Oil adds lightweight shine, softens, reduces frizz and improves hair's condition and manageability, all while shielding against UV rays and environmental pollutants. Jasmine Oil helps combat dry, itchy scalp and enhances shine. Sandalwood Extract, Amur Cork Tree Bark Extract and Barley Extract form a proprietary blend optimized to stimulate the hair cuticle, enhance moisture content, repair split ends and improve overall hair aesthetics. Cassis Seed Oil contains omega-6 and omega-3 acids, which moisturize and strengthen. Shea Butter, rich in Vitamin F, moisturizes and softens dry and damaged hair, adding luster and helping protect against further damage.
Free Shipping on products of £50.00 and above
Standard Shipping on products £0.00–£49.99 is £4.00
Delivery in 2-3 working days
For returns policy see the Delivery & Returns section below
Oribe Hair Care began its journey in 2008. Good. Better. Best. Those were the classifications found in all beauty categories except hair care. Daniel Kaner, along with two partners including legendary hairstylist Oribe Canales, saw an opportunity in the professional hair care category to create a brand that offered a unique, boutique perspective within the segment. The brand blends craftsmanship, performance and decades of styling experience from the top of the editorial and salon worlds to create a new category in hair care. Today, Oribe is a best-selling, award-winning brand that has sparked deep connections with its consumers.